By Bigg Success Staff
04-03-08
You can't have Bigg Success without a good laugh from time to time. You'll find fun videos here, jokes, humorous stories and more. Send your fun stuff to bigginfo@biggsuccees.com. We're looking for funny videos, photos, e-mails, resumes, signs, jokes, or anything else that relate to work and life.
Video of the Week
"March Madness"
Here's an up-and-comer … this kid is only in fifth grade! Just shows you what practice can do!
Click here to see the video.
Source: Jokeroo
Typo of the Week

"Do you want to super size that?"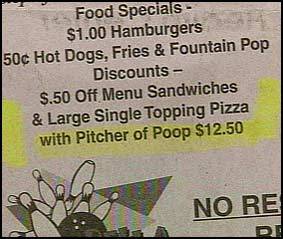 It's amazing what a difference one letter can make!
Source: Uploadhouse
Game of the Week
"Under construction"
Here's a fun game where you're the builder of a series of projects on a city block in the center of the city. Get the blocks in place so they match the construction plan before the clock expires!
Source: Monster Box
More Bigg Fun
Bigg Fun 18 Bigg Fun 17 Bigg Fun 16 Bigg Fun 15 Bigg Fun 14 Bigg Fun 13 Bigg Fun 12 Bigg Fun 11 Bigg Fun 10 Bigg Fun 9 Bigg Fun 8 Bigg Fun 7 Bigg Fun 6 Bigg Fun 5 Bigg Fun 4 Bigg Fun 3 Bigg Fun 2 Bigg Fun 1